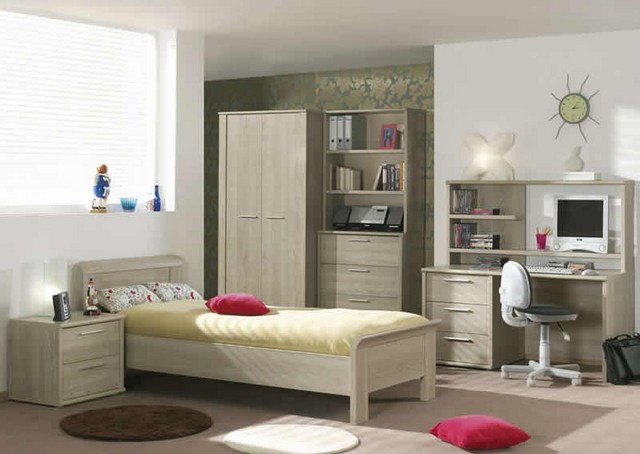 Picking teen bedroom furniture is not a difficult task. Basically you have to do a small "correction" of the existing interior: your child is growing and his interests are changing. Consider the color of the walls: use different colors for boys' and girls' dorms.
Install there functional bed, a wardrobe or a closet, a desk. If your child has a certain hobby think over the option of "theme" interior. Invite your son or daughter design this room together with you: it will positively affect your relationships. Choosing furniture into teen bedroom is even easier than before: your kid can explain to you his tastes .
He knows how much bookshelves he needs, what color should be the wallpaper and rug, desk and a wardrobe size. Consider the ideas of your child but do not follow them blindly: if your son wants a pirate ship instead of a practical dorm, it sounds cute, but soon the design will start to bore everybody. Choose something more neutral and practical. If you have two or even more kids sharing one room,order a large custom bunk bed.
Contemporary bunk beds is the best variant of furniture for teen bedrooms. These constructions combine a bed with two sleeping places, a built-in desk, a closet and shelves. Everything is very compact there, and it saves much area space. When you have one child who needs one sleeping place, it can be a captain bed. Your son or daughter will sleep on the "second floor", and the ground floor will be taken by a desk and cabinets.
Photo gallery: teen bedroom furniture