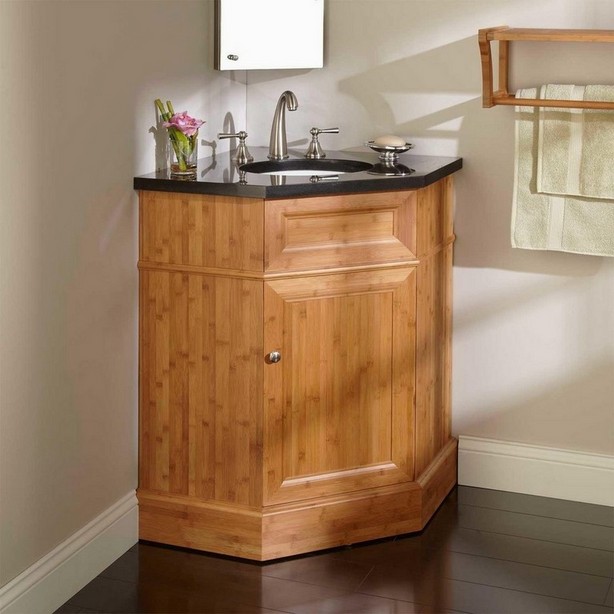 Ergonomic corner bathroom sink solves the problem of a small space. The main advantage, which a corner sink for bathroom has is to optimize floor space. A very popular type of such a unit is pedestal sink. Placed in the corner, its "leg" masks the water pipes, sanitary stuff and plumbing. Suspended or floating corner bathroom sinks are the best ones in saving space.
You have an access to the sink, and there is a free space under it. Some homeowners even install washing machines under floating corner sinks. Built-in sinks are installed into the countertop suspension. This model has got only one minus – it takes a little more space than pedestal or a floating sink. However, this disadvantage turns into the greatest plus if you store different detergents, cleaners in your bathroom, sanitary ware. Then all of these units will be easily placed under the sink, inside the storage under it. In general, corner sinks in bathroom do not differ much from the similar products installed by the wall. Their major difference is their shape.
In all other aspects, including the materials, they are the same. Sinks from porcelain, glass, stone, stainless steel, and the most popular ones – ceramic sinks chosen by material are simply used in various interiors. Meanwhile, you will never install a metal unit in a classic bathroom, but ceramic and porcelain ones match all styles. Faux stone sinks are the most durable. Depending on design they fit into majority of interiors.
Photo gallery: Space saving corner bathroom sink