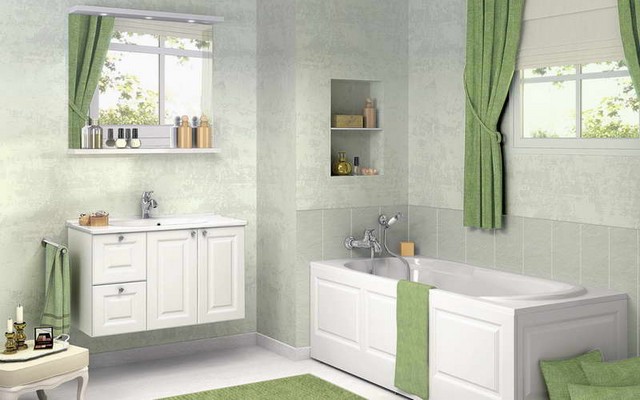 Choosing bathroom window curtains is one of the finishing touches when decorating this area. It is always a stylish accent in the interior, emphasizing the main feature this room has – the presence of the window. Regardless its shape and size, it becomes the center of the space.
Even a small room with a tiny window has a special charm. Bathroom is an area with a special microclimate: it always has high humidity. Therefore, choosing curtains for bathroom window consider the following: presence (or absence) of another building opposite the window, the level of insulation, ventilation system power, window size.
Materials which are used for curtains for a bathroom window are textile, tulle, plastic, vinyl. You can pick roller, Roman, French, Austrian window treatments, blinds, textile curtains. Fabric and lace curtains should be used only if you have satisfactory ventilation in the room. In humid conditions fabric will always be wet, it will lose aesthetics. Sometimes fungus or mold can grow in the folds of swags of your curtains.
Vinyl is much more practical material for bathroom windows curtains. This material is not afraid of water, it is easy to care about it. In case the front of the house is too close to another private property choose blinds – vertical and horizontal models both work well. They'll help to create an atmosphere of privacy. At the same time bathroom, will not be dimmed, and you may not turn on the lights in this room at the daytime.
Photo gallery: bathroom window curtains