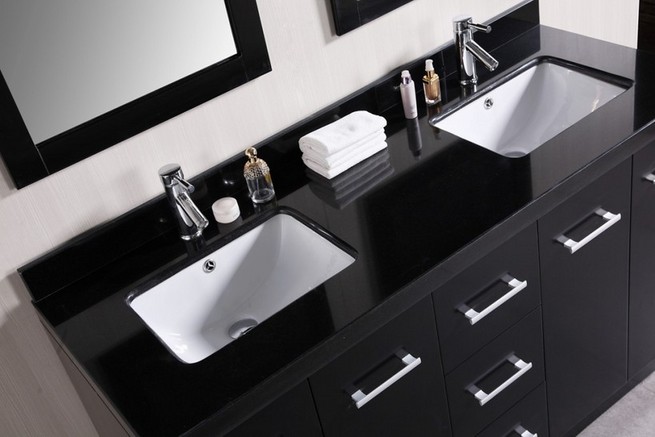 Multifunctional modern bathroom vanity is a great unit which to solves both designer and consumer issues. Such a unit always has many shelves and drawers, which can accommodate all the necessary things for your hygiene and the other needed stuff.
large convenient tabletop of the vanity is a great surface to place there your cosmetics, perfume, box with contacts and whatnot. Bathroom vanity will give the room clean and neat look, placing all these things smartly. Picking this piece of furniture,consider the bathroom design and try to choose a vanity which matches it. Many contemporary bathroom vanities have streamlined shapes, some of them are have a floating design.
These modern constructions save additional room space. It is also important to choose the right hardware of the vanity, preferring legs made from chromed metal. Corner models are suitable for small bathrooms, they take up minimal space, but they are practical and roomy. vanity shelves can be adjusted by varying the height.
Modern manufacturers now offer the broadest range of different vanity models, so it's easy to choose the most suitable one which will perfectly fit into your bathroom. As it was mentioned above, floating vanities are popular today.
Due to its suspended design you can easily clean the space under the unit. Moreover, such furniture will be well ventilated due to good air circulation. Floating modern vanities are not scared of the bathroom humidity as they do not touch the wet floor.
Photo gallery: Advantages of a modern bathroom vanity