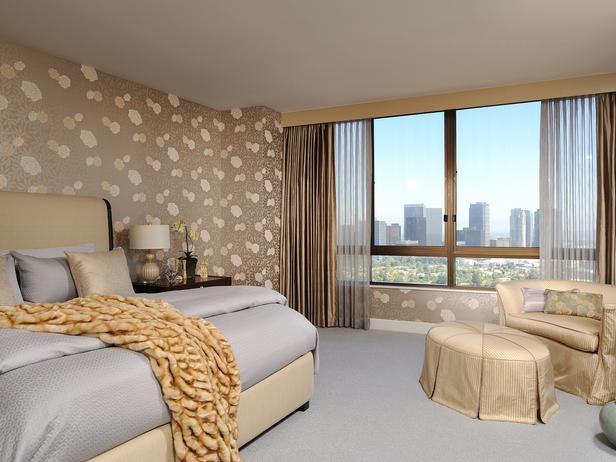 Picking bedroom wallpaper it is necessary to consider the main purpose of this place. Any dorm is made to give you rest and relaxation, provide healthy sleep and let you feeling coziness and comfort of your own home. Therefore, wallpaper colors must not be too bright and exciting.
The choice of wallpaper in bedroom should depend not only on your taste, but on the room position itself. If your dorm windows look to the west and north-west, you should better pick warm shades for your walls. Very sunny rooms lit with sunlight welcome cold tones of bedroom's wallpaper. Different colors and shades affect the mood and even your sleep. Do not pick absolutely dark black dorm.
Such room interior will push you sleeping longer than you should. Moreover, if you add heavy thick drapes as window treatments, it will seem to you that the night is longer than the day: again you will sleep much. Green wallpaper for bedrooms will give you the better rest from mental stress, yellow models will fill you with happy joyfool mood. Blue shades of the walls will help to calm the mind.
Besides the hues and shades which are recommended for the dorm wallpaper, there are colors which you should avoid. For instance, red, orange and dark purple will give you the feeling of discomfort and irritate you. Wallpaper texture should be also considered. Do not choose paper stuff: it won't serve you long. However, dorm wallpaper should be made from natural materials and be soundproof.
Photo gallery: bedroom wallpaper