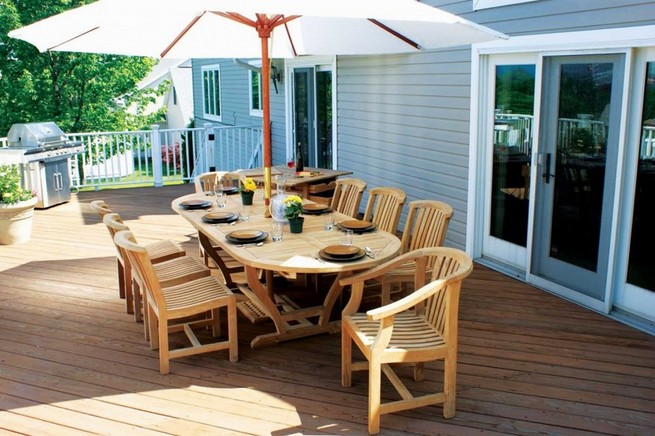 Today many homeowners who have their gardens and yards arrange there a patio – comfortable, practical small paved area, furnished with patio chairs, a table, lounges and other attributes of the rest. These patios are created for the best rest outside, far from fuss, close to your home, but on the open air.
These areas are the best variant for people who do not have a chance to travel or rest outside. Making a comfortable atmosphere around your home and placing there convenient furniture creates the place you can rest not worse, and sometimes – even better than in some trips. When choosing furniture for patio consider the material.
Wooden furniture looks very very aesthetic, natural, gives comfort and warmth, but it is not practical, since it does not not tolerate "whims of nature". Wrought iron furniture is durable and looks very sturdy ( and it is), but it is too heavy and often used as stationary furniture. To soften the metal coldness the seats can be decorated with patio chair cushions, and a bench – with a comfortable pad.
Wicker furniture is very light, looks "sunny" and resists moisture and sunlight. Many homeowners are absolutely sure: rattan and wicker chairs and benches, table and ottomans are the best options for a patio. Plastic chairs are the cheapest ones, but they are not practical. You can break such a chair easily, and these units get all the outside dust. Arranging your cozy patio, get there comfortable chairs, sofa, a table and chaise lounge.
Photo gallery: patio chairs