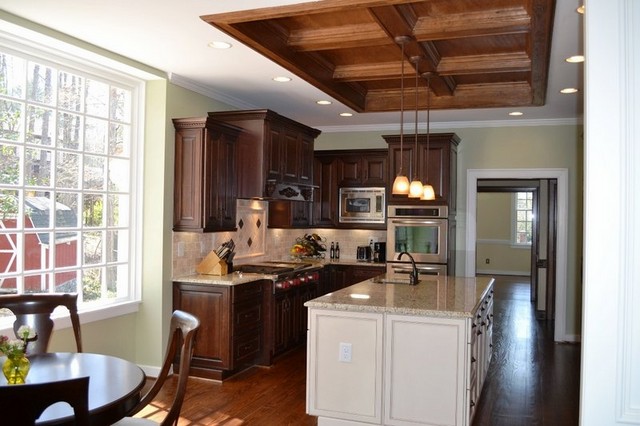 When choosing cherry kitchen cabinets you buy furniture which looks better with time. The unique quality of this hardwood – to get darker with time gives kitchen cabinets from cherry very respectable look. The color of new cherry wood varies from yellow to golden brown, but after time it darkens and becomes reddish. Each sort of wood has its advantages, but cherry is the best option in price/material quality ratio. This wood is very durable, but flexible.
These features make the material a perfect stuff to be bent and polished. Exactly this flexibility of hardwood lets woodmasters working with cherry with pleasure, making furniture complemented by a variety of carvings, rounded forms, stained glass and decor. A cherry kitchen cabinet in interior looks very elegant. The beauty of wood patterns which is visible on the cherry surface give the unit a special charm. Cherry is not so hard as beech, oak or ash.
The stuff made of solid cherry wood does not like temperature and humidity changes. Therefore placing cherry cabinets in kitchen choose the space far the windows and from direct sunlight. Cabinets made of such a material are very durable, but you should be careful when washing them. Never use detergents and brushes with abrasive particles. To clean such a unit take soft cloth and special wax-based agent. Cherry is very beautiful, and with ability to transform its color and plastic structure it makes woodmasters creating lovely cabinets for home.
Photo gallery: cherry kitchen cabinets