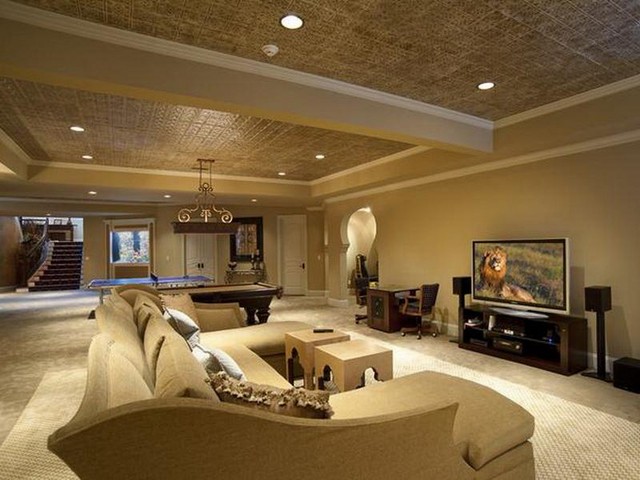 Today there are many basement ceiling ideas which can help to make this ceiling looking nice and neat. You can choose either option. It all depends on your taste and budget. You can always add decorative elements it. They will give your basement a homey look
False ceilings in the basement are often used in enterprises and companies. They are more commercial in nature. The advantages of such ceilings is their ability to absorb excess noise. It is very important if you work in basement. In addition, the upper part of the ceiling can be used either. Hide the wires and ducts under it, and the room will be tidy.
If you are not a fan of false ceilings, the next option is for you. You can plaster it or install special dry panels. This basement ceiling idea requires hard work and equipment rental. Later you will easily decorate the ceiling with some decorative elements. Pipes and wires can become a part of design: loft or industrial style. This trick will provide an easy access to communications in case of emergency.
Another idea of basement ceiling installation is to use mirrors on it. This creative step strengthens and improves the lighting in the room. You can use mirrored tiles to increase visually the size of the room. This is an effective optical illusion, which is suitable for small spaces. Make sure that the basement ceiling is not too low not to break the mirror. In any case the repair and redesign will only increase the resale value of your house.
Photo gallery: basement ceiling ideas