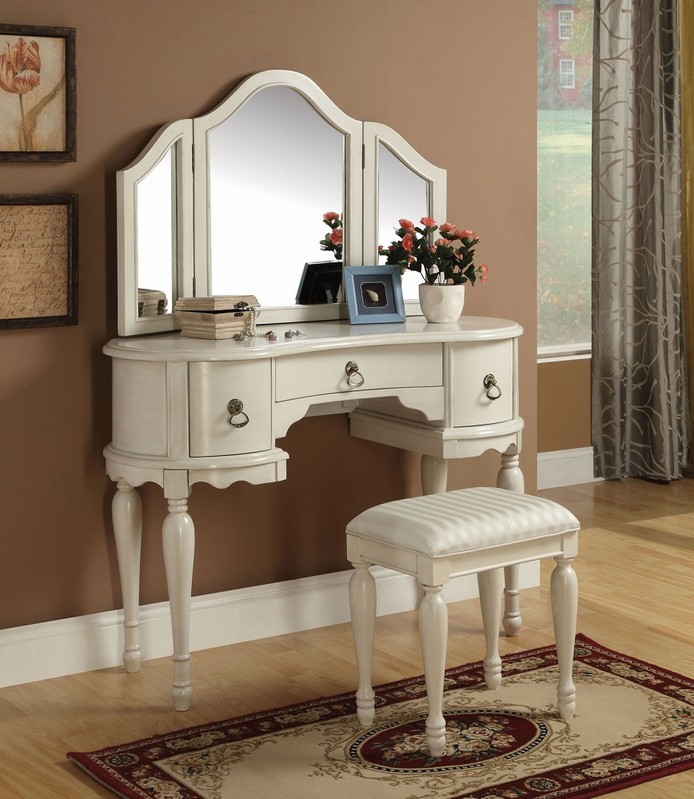 Bedroom vanity is a favorite of women. Because with it's so convenient! Firstly, this is the place for storing cosmetics and various tools to help the ladies always to be beautiful. Secondly, it is a comfortable area for applying makeup and creating hairstyles. Thirdly, the dressing table in the interior is stylish piece that can decorate any bedroom.
First of all, it should be noted that the construction of bedroom vanities are very diverse. Mirror is an essential element of the table in some models. So you do not need to fix the mirror cloth to the wall. Typically, the mirror in such furniture is non-replaceable. In other configurations, the mirror is a separate piece that is hanging on the wall. You can collect the kit by individual part (chair, table and mirror) or purchase bedroom vanity set.
If you have a lot of different cosmetics and accessories, pick a table with plenty of places for storing, with roomy drawers and shelves, preferably closed ones. This will help you to maintain a full order on it. Very comfortable in this regard vanities those are made by type of desk. This is the best solution for those cases where the size of the bedroom allows you to not calculate every inch of furniture. The table that is built-in the cabinet, or have a combination of tables and chests of drawers is another practical model.
Photo gallery: bedroom vanity