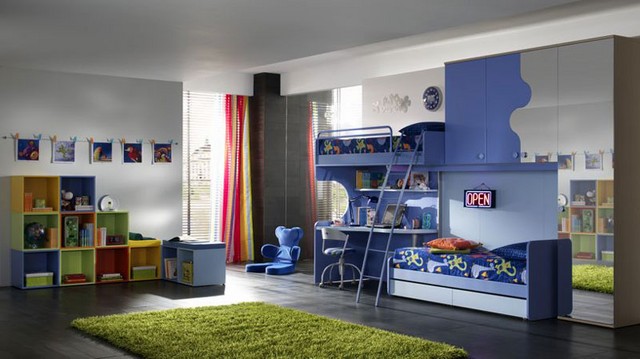 If you do not know which room design you should choose for your son's bedroom interior the following boys bedroom ideas will help you in this uneasy task.
Nautic or sea theme. Pirates, submarines and ships- if your son adores adventures and loves sea, such a boys bedroom idea will be the best. The main color of the room is blue and all its shades. Place there a globe, a map, a rope, a flag, a steering wheel, toy chest.
Travelling theme. Use various accessories connected with different countries and travelling: large plants, bright photos of animals, aquarium. The main colors which must be used there are beige, sky blue, green and yellow.
Machinery theme. Every boy has his passion – cars, trains, planes, spaceships, tanks. A boy who loves the railroad will adore his "train" bunk-bed. Use many big toys, bright posters, hand-made wooden models and much equipment.
Sports theme. If your boy adores sports, make a cozy mini gym there. Buy him a sports corner, hang on the walls his framed diplomas and posters with favorite sportsmen. He will like this idea of boys bedroom.
Room for a small boy. Small boy does not care about the room design, but adores to jump on the bed and play everywhere. Take care about his safety first of all.
Room for teen. Teen will soon grow into a young man. He should have his own desk with a computer, a bookshelf over it and a sports corner. The rug must be soft, but not too much otherwise it will be difficult to make push-ups.
Photo gallery: boys bedroom ideas