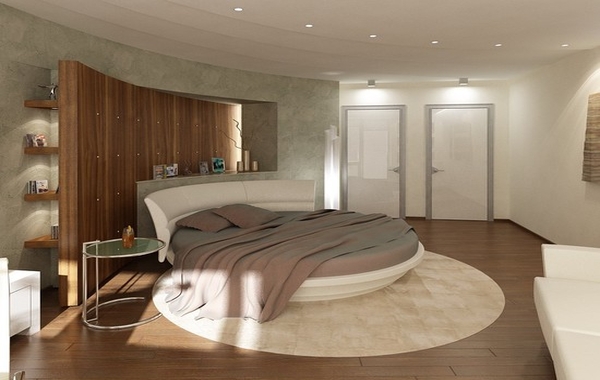 Round bed is quite a decent design solution for a person who enjoys extravagance and unusualness. But sometimes this bed looks strange and odd. So it demands a good taste in design.
You can't but mention it's undeniable originality because of not very great popularity among customers. Another advantage of this bed is a high level of comfort. A round bed is wider than a usual bed – you may lay in a different way, as you like. What's more such beds are safe: a lack of sharp angles reduces the likelihood of injury. So it is a really great choice for nursery.
But with all these advantages, round beds have some drawbacks. If your bedroom is small, such a bed will look very strange, it will clutter the room. Another disadvantage is a difficult choice of linen. It is not easy to find suitable linen for such beds. Furthermore owners of these beds say that it is difficult to fall asleep especially at first. But if you are sure that these drawbacks are trifles, buy it, it is worth it.
Nowadays there is a great choice of such beds. But if you've decided to purchase it, be careful because this bed will fit not every bedroom. It will look mistakenly in classical or country-style bedrooms. On the contrary it will be pertinently to place a round-shaped bed in futuristic or high-tech bedroom. By the way, you may make your bedroom more original: some designers offer to hang the bed.
You may modernize your bedroom with this interesting and unusual furniture.
Photo gallery: Round bed