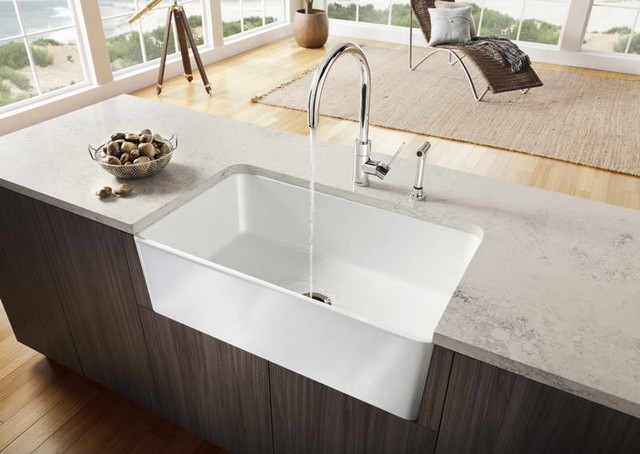 Modern corner kitchen sink is popular for many reasons, but the main one is its compact size. Really, older models of corner sinks were traditionally used in small kitchens. However, contemporary units match any space. Picking it do not think about saving space: care more about the beauty and functionality of the product.
Contemporary corner kitchen sinks can have one "bowl"- sink or two of them . One sink will be good for washing dishes, another one – for placing them there to dry. The second bowl is perfect to defrost meat, wash or clean vegetables and fruit. This means that you can save space and time. The side wing is designed to place there hot dishes and pots: it is very handy when cooking.
Corner sinks usually have 2 wings. However, the corner sink for kitchen should not necessary have a triangular shape. It can be combined, round, rectangular, oval and triangular. The bowl depth can be varied, deeper sinks save more space either. The most common material manufactures use to make corner sinks for kitchen is stainless steel.
To determine whether good steel was used to produce your sink is simple: touch the sink with a magnet. Stainless steel should not magnet. The sinks can be made from stone and granite, also. Homeowners who care much about some certain kitchen design can pick these sinks. Rustic kitchen will look better if the sink is made of stone, not from steel. Classic kitchen looks lovely with a granite unit, modern – with any of them.
Photo gallery: corner kitchen sink