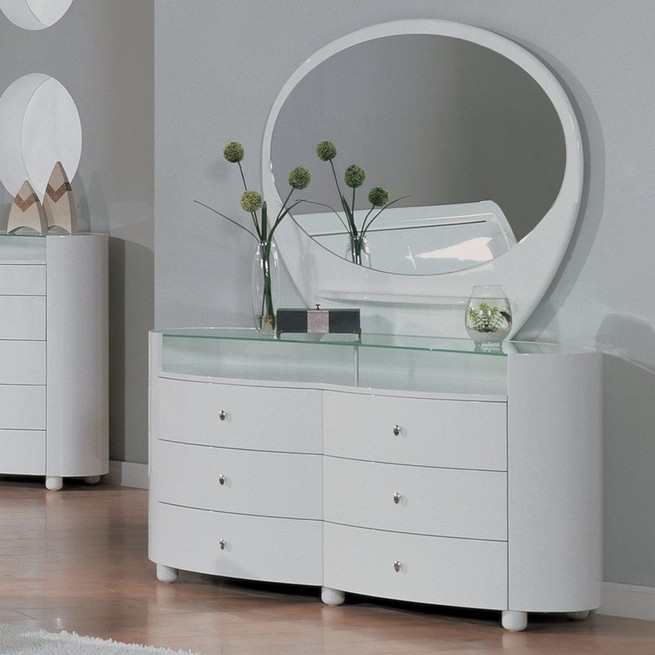 Beautiful white dressers can match many interiors. The unit can be designed in Shabby chic or modern Scandinavian styles, high-tech, classic or country. In each of these interiors dresser will differ in design but it always brings into interior sunny and light touch. Shabby chic interior will welcome a white dresser decorated with decoupage of small roses and leaves.
A unit decorated with natural unpainted wood will fit into Scandinavian interior. Classic room is gorgeous with a dresser with curved legs decorated with gold trim. High-tech home will look even more contemporary when you buy for it a dresser with glossy white finish and drawers without handles. Designers love to use various white dressers in interiors.
A large mirror or a framed painting looks amazing when placed over such a unit. The dresser top is the best place to keep there a lamp, clock, vase with flowers. Roomy dressers are perfect for storing there linen and sheets. White dresser is used as furniture for a bedroom or nursery. Such a unit is irreplaceable stuff in any sleeping room. It will store a bunch of little things : bed stuff, underwear, home clothes.
It will be a great addition to bedroom furniture, and not only the white.This color is neutral and can match different colors of your furniture. For example, a black bed with a forged headboard will look wonderful with a white chest of drawers. White is classic color, and classic choice is timeless: your dresser will serve you long.
Photo gallery: white dressers