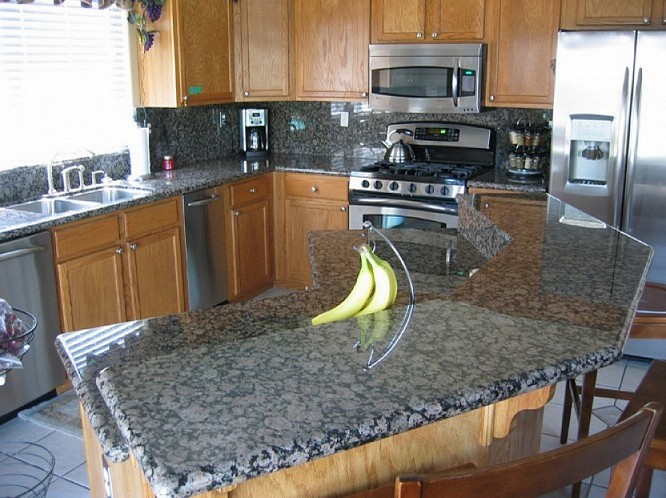 Popular kitchen granite countertops are not afraid of sharp knives and pots with boiling water. Granite is a very hard volcanic origin rock. The color scheme of granite countertops for kitchen is truly wide. Granite can have patterns, streaks and other natural ornaments or be solid.
Each granite countertop is a unique work of art. The stone patterns number is endless, so before you decide to visit the studio making table tops made of natural stone learn more about all the available options. Granite is resistant to heat and it is almost impossible to scratch it. It gives the kitchen a touch of luxury. Thickness of each kitchen granite countertop depends on geographical location and varies from 0.8 inches to 1.4 inches (the thicker, the better).
Thick countertops cost more. The form of the edge may be different, including the direct, bevelled or round ones. Such countertops may exist as slabs or tiles. Granite slabs provide a single monolithic appearance. Their length is normally 118 inches. If your countertop is longer, or you need an L-shaped stuff, it will consist of two parts of the granite slab. When granite is too expensive for you, but you dream about a table from this stone, consider buying granite tile countertops. Granite tiles need a little more care, but they are less pricey and can be used in various configurations of countertops. The countertops made from this stone have got the best price quality ratio and their lifespan in the longest one.
Photo gallery: kitchen granite countertops